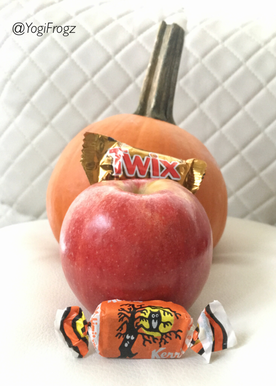 Hope you all had a fun and spooky Halloween! This special yearly event is a time to assemble and remember the passed on in a lot of cultures. Even in our modern communities people get together, mingle in their neighborhood streets and partake in fun costume events that bring friends and strangers together. Bonus the kids get tons of candy…
The down side - today we're one week post Halloween and our family is still struggling to get back to healthy eating habits. Sugar is so tempting and can even be addicting! The more sugar we have the more our bodies crave the intake of sugary treats and the release of feel good hormones like serotonin and dopamine. Are we aware and paying attention when we reach for a treat mid-morning or mid-afternoon instead of a healthy snack? I know I had to plan a space to put some of the candy out of easy reach this week and throw some out too! I notice that when I eat to much candy my thoughts are more distracted and pulled in many directions at once. It's harder to focus for longer periods of time and the body brain connection feels more fleeting. I also see in my young child increased erratic behavior, distraction, irritability and even troubled sleeping. A little research gives us more insight on the effects of sugar on our bodies. 
See articles:
http://www.huffingtonpost.com/2015/04/06/sugar-brain-mental-health_n_6904778.html
https://igennus.com/nutrition-blog/sugar-highs-and-serotonin-lows/
So how do we scale back? And give our bodies a break before the upcoming Christmas holidays?
The first step is noticing. Mindful eating. When we see, and take note of what goes into our mouths we then can make clearer choices. You can sit and think for a moment of everything your family ate in a day and then write it down. How did your body feel on that day? Where did you feel it? How did your family operate on that day? Just one day offers a visual portrait of what went into our bodies and from there we can choose to modify, empty our cupboards and add healthier options to our grocery list.
Taking some time to connect and educate our families in a fun activity can also go a long way. A great book to practice reading and mindful eating: No Ordinary Apple by Sara Marlowe.
Watch the video for a sneak peak miam!
Also visit: https://www.facebook.com/AuthorSaraMarlowe/

Another fun activity and a good way to encourage Saucha or purity (a Niyama practice) – cleanliness of mind body and spirit – in our children is to invite them in the kitchen! Let them get their hands dirty and have them assist you in the making of a healthy meal :)  It wont get done in 15 minutes, but a lot more then just filling our bellies will come out of this exercise. Benjamin is 4 so I share the names of the ingredients, we prepare them (even cut them! carefully) and our favorite part is mixing them together. Children at this age can be very picky so if something on the table is new and isn't to Benjamin's taste I encourage at least one bite. It can take a lot of first bites before we start liking something.
Other little tricks instead of treats:
·         Replace candy with natural sugars like fruit
·         Do not skip a meal!
·         Eat slow fats and slow carbs. Slow foods are foods that take a long time to digest so             they provide you with a steady stream of calories ex: oats and butternut squash.
·         Eat something that has a little heat and spice.
·         Drink lots of water.
·         Get out and get a little sun.
·         Got out for a walk or dance in the kitchen when a craving happens: an alternative to                 elevating serotonin (the happy hormone) levels in the brain :)
What do you do at home to encourage healthy eating habits?
What do you do after Halloween?
Please share your experiences with food and children :)
THANK YOU FOR READING!