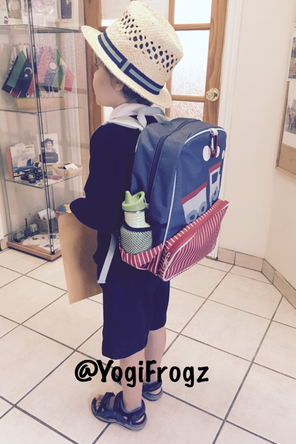 Happy back to school!
I'm a happy children's yoga teacher returning to class and seeing joyous familiar faces and new ones! Such light and excitement from my Friday group last week! It truly warmed my heart!
At home we're also now in WEEK THREE (wow!) of returning back to school and we seem to be going back to bed a little earlier phiew :) Summer was a lot of fun and we traveled outside of Ontario to visit family and spent a lot of time discovering our beautiful city of Toronto. We ate out, went to be late and woke up late, we watched a lot of cartoons, we spent a lot of time going to the park, we got dirty and sun kissed, we ate too much sugar and filled our fridge with Canadian seasonal goodness and we enjoyed our warm summer!
I am grateful for the beautiful summer but just as happy for the fall school season to start. Walking our 4 year old back to our neighborhood Montessori, meant we were setting up our family routines to accommodate the school year. Going to bed earlier, an earlier rise and healthier breakfast make for a more structured and productive day. Our little guy was also very confident and happy to go back as this is his third year in the program. Old and new friends to play with awaited, caring teachers who we've missed and new things to learn make going back to class all exciting!
Young children thrive on routines and repetition. A school day offers a predictable schedule for children. It makes it easy for them to know what to expect and to build self-confidence once they master a task. I also think a lot of us adults need routines and rituals in our life to maintain stamina and have an idea of how to prepare for the daily challenges! I personally am a pretty easy going personality and can surf with the waves but find I'm a better surfer when I know where the waves are coming from... Learning the benefits of self-discipline at young age will serve the adult immensely. Yoga asana allows us to practice self-discipline in the now as we will our bodies into the various postures and meditation helps remodel and redirect our thoughts. Yoga in school prepares the body and mind for learning by practicing attention and developing resilience (and by getting the wiggles out to!).
Back at home, my tapas (Sanskrit for discipline) practice this fall will be to make space for yoga in our morning routine! For us it seems like adding one more thing before we rush out the door but by not giving up it will eventually become habit and make us readier and happier to take on the gift of the day ahead! Stay tuned :)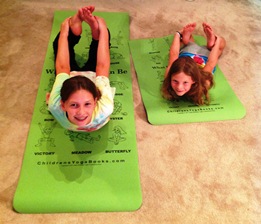 To help make yoga practice fun at home have a look at our children's yoga mat (environment friendly and gentle on the skin!) shop here and visit www.childrensyogabooks.com for more wonderful resources!
THANK YOU FOR READING!