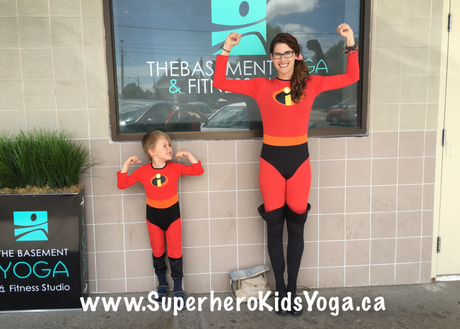 School's out for the summer (and so are my school yoga classes!) and I have more time to dive into creating a summer yoga program for children that's more substantial. It will also be a very special activity for my son and I since we are spending the sunny season together.
I've been fortunate to meet and partner with like-minded women interested in offering a camp where children practice yoga, learn self-regulating tools, discover inner calm and inner strengths and get to practice mindfulness. This first summer camp will be offered in partnership with LoveSpeaks Wellness , Szilvi Kovesdi, The Basement Yoga & Fitness Studio, and Earl Bales Community Center.
During a few brainstorming coffee dates, our camp creating team came up with Superhero Kids Yoga Camp.
Why choose a theme for a camp? And why superheroes?
The costumeS!!!! No but seriously we like our superhero costumes. A themed camp allows us to present an idea that's easy and fun for children to grasp and engage with and also better defines the camp to parents. It also helps prepare our activities, crafts and games!
Superheroes all have superpowers and most of these amazing character use their powers for good. Often a superhero also needs to journey and learn how to harness their power. Children in our yoga camp will not only practice yoga asana - healthy movement - they will also discover tools to help calm their busy and sometimes anxious minds to then hear their true voice. Learning how to truly listen to ourselves encourages self-confidence and the desire to share our best selves with others: True superheroes!!
Our superheroes will also get to practice yamas and niyamas great for character building and key elements for a more transformational practice. Yamas and niyamas are the first two stops on Patanjali's Yoga Sutra the Eight-Limbed path, even before the physical postures called asana, are ethical principles that are supposed to guide how we relate to other people and how we take care of ourselves. Yamas are social disciplines: non-violence, truthfulness, non-stealing, self-control and generosity. Niyamas are personal disciplines: cleanliness, contentment, doing our best, study (learning new things) and living with love & positive thoughts. 
We hope that by inviting children to play with superheroes they will discover their beautiful inner qualities and remember that they have the power to hold inner space that's safe and calm.
Superhero Kids Yoga Camp Starts August 2nd and goes to August 12th 2016. Calling all superheroes 5 to 12 years of age! Our superhero secret layer will be at address  626 Sheppard Ave W, North York, ON M3H 3R6 and our outdoor rescues and kind acts are set to happen at Earl Bales Park :)
Thank you for reading!