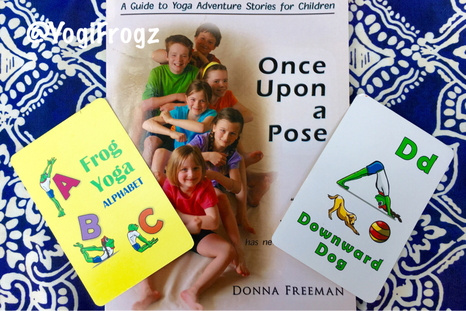 How is my child's yoga class in school different from my adult yoga practice? What does children's yoga programs in schools look like? And how do you get them to follow!?
I started as a yoga instructor for adults and honestly a year ago I couldn't have answered that question! When my son was a little over two I started looking for family yoga classes in my area and couldn't find any! So I decided to take the plunge and become a children's yoga instructor! The certification I took with Young Yoga Masters and Childrens Yoga Books really showed how to present yoga asana and yoga philosophy to children of all ages and how to engage with favorite rhymes, games and activities and turn every moment into yoga! Now my 4 year old practices yoga in his school and guides classes with me! 
Daycare and Kindergarten yoga classes are a lot of fun! What do they look like? REPETITION is key! I have an opening and closing song and after a few classes the group will sing with me – mastering a new skill encourages self-confidence. For School age children I also have an opening ritual: it calls the group to attention and encourages participation.
NAMES! Hearing your name is the most wonderful thing! It is also key when getting a child's attention and asking him or her to participate. I always do name games at the beginning of the first few classes!
I also bring lots of PROPS! Everyone really tunes in when they see something new for the first time. Children (and adults!) are very visual so using yoga cards for example helps in demonstrating a pose. Objects and pictures also help in making abstract concepts more understandable.
Monkey see Monkey do! Get moving and the children will move! Have fun and they will have fun too! So do a yoga pose and they will follow. Little ones are equipped with MIRROR NEURONS that helps them absorb, copy and learn about their environment. Depending on the age group, attention span will go from a few seconds to being able to hold a pose longer. Creativity is key!
I've also rediscovered signing! Signing is breathing J SING a song and observe a group settle and chime in!
A lot of concepts and yoga poses are new to younger children so I do my best to remember to go SLOW! I find it very humbling and fascinating!  It takes me back to my very first steps in yoga when I see the youngest of yogis trying to figure out where their feet are when I instruct step your feet a little wider. They will look at their feet! For older children it's tempting to go a little faster in instruction but is more beneficial to take a little more time in explaining a new pose (to avoid injury!), even a pose they are comfortable with and new activities. Sometimes going slow means I throw out part of my class plan and that's ok!
Being FLEXIBLE and attentive to children's wants and needs makes class much more interesting! Offering choices and guiding the class in these choices keeps children listening since they feel more valued and empowered.
In school programs I often guide class with a teacher assisting and they help keep tabs on CLASSROOM MANAGEMENT but sometimes I am the teacher in charge of the group. At the beginning of every new program it's important to introduce yoga class guidelines so children now what is expected. It's also valuable to maintain their classroom practices. As a yoga teacher I've learned to structure my class as to bring energy levels from down to up and safely down again. An impromptu breathing exercise brings the focus back on the body and the present. Inviting a group leader (who is being disruptive) to help demonstrate will also help in getting the group to participate again. And the big one silence! Waiting for a group to calm down before proceeding to the next activity and then calmly explain what is expected before proceeding to the next thing… For school age children it's also a wonderful learning opportunity for them to discuss, share and come up with their own solutions when games don't work out or we experience a little too much chaos.
To summarize, an example of a 30 min children's yoga class I teach starts with an opening (a song), then follows with a breathing exercise, a warm-up with music, yoga asana, a relaxation and I close with a song or ritual. I mix in stories (yoga philosophy), games, rhymes and lots of laughter and fun.
What would you like your child to learn or do in yoga class? I would love to hear your ideas!
Thank you for reading J