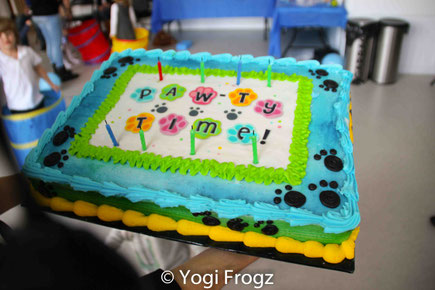 This past April, I was preparing my son's birthday and hired for a friend's birthday celebration. Two parties for two energetic little boys who enjoy Paw Patrol and dinosaurRRs!  What a busy and fun time it has been! For us having a yoga birthday party made too much sense and having it at Artscape Youngplace where Benjamin and I offer our classes felt like having a party in our community home. Benjamin was super excited and confident sharing his knowledge of Paw Patrol and yoga with all his friends. In both events we ate good food, played with yoga games and sensory activities, participated in a yoga class and ate sugary sugar cake!
What does a venue themed yoga birthday party look like?
All our friends were invited for a two hour play yoga party. It's important to have guests rsvp as to prepare food quantities, prepare games and activities, how many loot bags to make and how big to order the cake!
In one special dinosaur yoga party our guests arrived and were on the spot engaged in a silly dinosaur photo booth and then moved on to a fossil dinosaur dig. Parents chatted over the snack and beverage table while the little ones discovered even more yoga props in the room and…balloons are always all over the room for extra entertainment! 45 mins in, we had our dinosaur themed yoga class. Almost everyone participated! The moms really enjoyed dinosaur breath- It gave us a chance to let out a little steam J Right after we had cake and our special boy was offered presents. More pictures were taken and guests were on their way out. I have to say we had super fun music and even a music game at this event!
It seems a lot of birthdays are happening in April-May and my little one now expects us to plan everyone's celebration! We're invited to a mermaid themed party this weekend and he told me we needed to get the balloons and the cake ready! We'll only be guests at our friends fête but my head is bubbling with ideas of activities that could engage little and big kids at an under the sea yoga themed party!
To find out more and reserve your themed yoga birthday party: 
http://www.yogifrogzkids.com/eng/birthdays/
Thank you for reading!