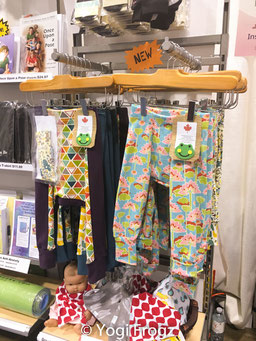 I've always enjoyed creating art with my hands and a little seed was planted in grade 11 when I took my first sewing class in school... My mother helped a lot in creating this first skirt project (that i wore at my young boyfriend's prom!), but the happy feeling of creating a one of a kind garment in addition to how special it was wearing it was from then on something I would seek to recreate.
Fast forward 14 years and the opportunity to explore more of this craft came about! My little one was 1 ½, almost a toddler, plus mom was ready to rejoin adult society. Fashion class seemed like an interesting fit. I discovered fashion illustration, colors, pattern making, updated my sewing skills and even took photography classes! I had worked as a model for almost a decade, yet never got to experience the making of.
In summer 2015 an idea kept popping into my head: children's yoga pants. Shopping for clothes in the boys department is not as colorful as the options in girls section and fun clothing made of organic fabric even rarer... My then 3 year old son wearing size 4 was also still in diapers (we needed bigger but pants!) Why not make these pants myself! Sourcing the fabric proved challenging as the selection of children's prints in knits on top of it organic is limited in Canada, but shopping for fabric is ALWAYS fun! I then made my first designs in illustrator and tested my first patterns. They looked amazing on my little guy and he adored them! Colorful, comfortable, gentle on skin and on the environment! He also asks to wear them at yoga class and was so excited when I made us matching yoga pants!
My hope in making these pants is that children will wear them, like them, feel comfortable and remember to participate in happy healthy activities. These pants also open a conversation on sustainable, healthier (no pesticides on cotton!) and environmentally friendly apparel choices.
To shop: go to website STORE 
THANK YOU FOR READING! :)