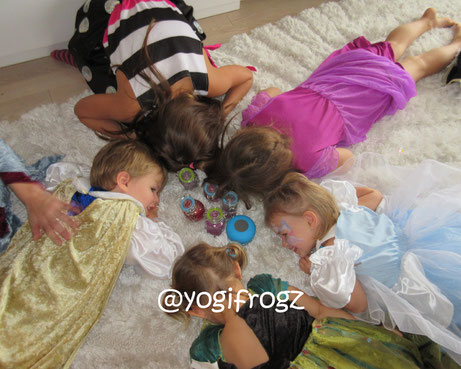 Yoga is union of the body and the mind. We use movement to keep our bodies healthy and we can use asana (postures) to help clear the mind. We can also practice what is called meditation. Meditation or relaxation exercises for children are a lot of fun. For younger ones it's often practical to offer something to focus on as their little bodies like to go and go :) A sensorial point of focus works very well. The 5 traditional senses are sight, hearing, touch, taste and smell. After a busy yoga class with stories, games, lots of movement and a ton of creativity, a time of relaxation is better received and often needed.
Here are a few of the MANY benefits of meditation for children and adults:
·         Become more calm, relaxed and grounded
·         Improve breathing and heart rates
·         Stress and anxiety reduction
·         Better sleep
·         Improve focus, memory and concentration
·         Foster creativity and inspiration
·         Create inner happiness and inner peace
·         Invite clarity and intuition
·         Increase self-awareness
·         Overall better emotional well being
·         Increase self-esteem and self-acceptance
·         Decrease aggressive behaviors
How do we engage children in meditation exercises?
A well-known meditation exercise - listening to an audio recording or music- is very soothing and engages the hearing sense of the child. Having fun setting up the scene will interest them into participating : try diming the lights or using a salt crystal lamp, get comfortable, use blankets and parents to cuddle and closing the eyes no peaking! Infants will listen for a minute or two and more mature children will be able to relax for 3-4 minutes or more. I find using music with bells, bowls and chimes gets their attention for just a little longer.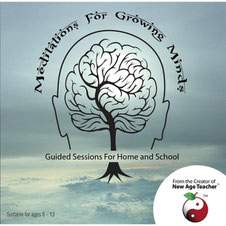 A wonderful CD - Meditations For Growing Minds - by a teacher and friend Nicole Vetere: http://www.newageteacher.com/buy-cd/
If you have no music and only a have a bell or chimes go through the same setup and have each child lie down with eyes closed and wait to have the chime 'ding' over their relaxing body.
Another fun auditory/touch relaxation exercise can be done with sea shells. This activity uses guided imagery and brings up positive feelings. Guided imagery is similar to storytelling. We choose guided imagery that children can relate to or imagine.
Example of script: Imagine you're walking on a beautiful beach. The air is warm you feel comfortable and light. You hear the soft waves and calming sounds, the salty smell tickles your nose and you enjoy feeling the soft texture of the sand, water and pebbles. You find a sparkling seashell and wonder if a mermaid left it there for you. You follow the curve of its shape with your gaze and touch its surface with your fingers. Bring the seashell to your ear and listen. What do you hear? Take 3 deep breaths. Can you hear the soft whoosh of the waves? Imagine the sea and its blue twinkling infinity Slowly open your eyes. How do you feel?
Bumble bee lips, or buzzing with the lips in a sitting down on the floor or vocalizing sounds like 'OM' is also an interesting auditory exercise with an added internal vibration bonus.
Visual: A tool like the colorful breathing ball (a great attention grabber!) helps children visualize their breath expanding and contracting. By lowly opening and closing the ball little ones imitate the action with their breath and learn to slow down their inhalation and exhalation. The benefits of slow breathing are almost instant the little ones feel calmer and refreshed.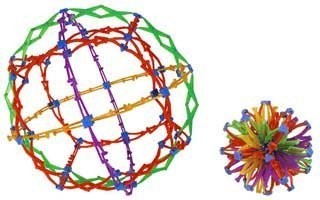 The meditation jar activity (see picture at beginning of article), a visual meditation, always intrigues smaller and older children. Time for experimentation! In our classes we use a clear mason jar with water and colored sand or make individual jars where participants chose their own sand/sparkle color. To start we present the jar and explain that the jar of water represent our mind. We then add a few spoons of sand and explain that these represent our thoughts, emotions and feelings good and bad. Then we give the jar a good swirl and ask the children to describe what they see. Validate and offer that during the day our minds get cloudy with things we need to do, happy thoughts and stressful thoughts (insert child appropriate scenarios), environmental noise, etc. From here have them lie down or sit in a comfortable position and ask them to close their eyes. What will happen to the jar of water if we meditate? Let's focus on our breath: in through the nose and out through the nose. Or listen to calming music. After a minute or two have the children open their eyes and again observe and describe the jar. Is it clearer? Has the sand settled? How do you feel?
A familiar visual and kinesthetic activity, coloring, is always a favorite. Coloring an active meditation, brings a feeling of enjoyment and peace. Seeing the beautiful colors appear on paper and giving in to repetitive motions such as coloring (or running, walking, dancing or even drawing) can help strengthen your focus and easily shift our attention back to a relaxed state.
For children's coloring pages and mandalas visit:  http://www.bigcoloringpages.com/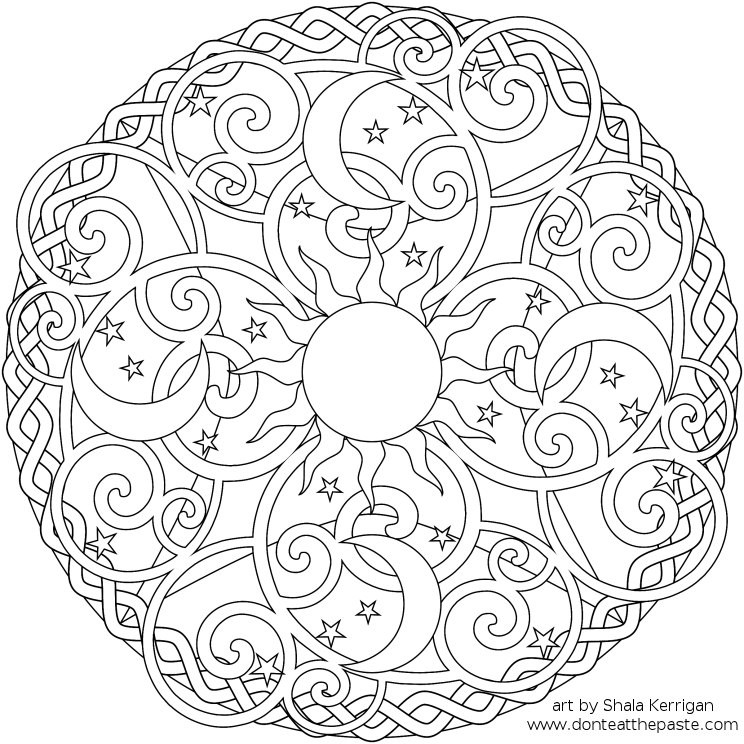 Practicing touch in the form of mini massages (face, hands, feet etc.) can be a wonderful way to help  children relax and release tension and can be a beautiful way to connect and bond with your toddler (similar to baby massage).
In the upcoming months, I'll be exploring mudras a meditation that requires we use our touch sense. Mudras are like a mini yoga practice for your hands that you can take anywhere :) and for interested mini yogis and kinder yogis I'll introduce essential oils. Smell is a sense often overlooked and can bring up happy memories, pleasant thoughts and a feeling of purifying.
Thank you for reading!
Happy meditating :)