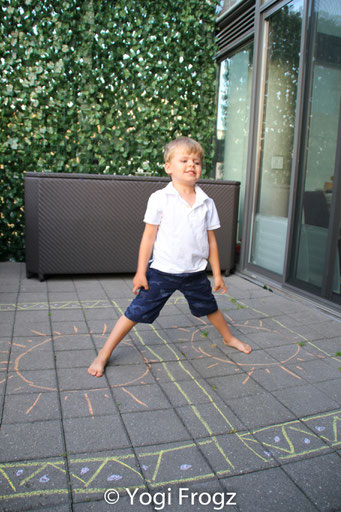 Want to try yoga at home with your little one?  Setting a time to do yoga with our children is a great way to connect and add a little healthy exercise to our day. Yoga has many physical, and psychological benefits and can help children maintain healthy bodies, facilitate calmer more focused attention and empower them with a positive self-image.
Group yoga classes outside the home and getting your little one to settle down and practice yoga at home is very different! If you attend a kid's class in a studio or workshop or your child does yoga in daycare/preschool the group dynamic can make a more engaging session with other children partaking. In this type of class setting there are also behavior expectations and guidelines in place managed by the teachers at the school or by the yoga instructor.  The space in schools and day cares can be prepared to facilitate educational programs and organize the work children do by having stations prepared, tables and sitting carpets. In studios and gyms there can be lots of space, mirrors, mats and props to facilitate time for yoga and probably less distractions.
At home our little ones have more things to entertain and therefore interfere with time for yoga. Their favorite toys are here and there, television is not too far away, the hum of choirs and life play in the background and they are probably hungry or thirsty!
So how do we get to do a little yoga (yayi!) and have them do yoga as well?
1)          Start with choosing a time when you can focus on the activity you're doing together. Just this first step is definitely challenging in our house as there is always work to do, diners to prepare, house chores, train rails that MUST be fixed or errands to run!
2)          Super fun for both your child and you: as you know your child very well choose themes and activities they are into and incorporate yoga ex: prepare an activity using train references for your little boy.
3)          TIME FOR YOGA : Set up the environment so it's safe for the both of you to move around (because your child might add a few dancing moves to the yoga postures or want to climb up on mommy or daddy). Also having mats, towels or a special carpet or even a designated area will give your child that first cue that they will be doing yoga. Try going outside on your patio or in your backyard if weather permits.
4)          Try starting your practice by doing the same 2 min activity every time. It can be a breathing exercise, positive affirmations, checking in with your little one, etc.
5)          Warm up: a song here can work very well, hoping, dancing and jogging on the mat are also ideas. Move for 3-4 mins as to bring the heart rate up and prepare the body for postures. You might already have on your playlist fun songs to dance to like Happy by Pharrell Williams: https://www.youtube.com/watch?v=y6Sxv-sUYtM or want to try kid's songs like The Airplane Song by Laurie Berkner https://www.youtube.com/watch?v=ogrjr0HEZgE and add airplane pose and sitting pose between dancing and jumping exercises.
6)          Play a game, tell a story or try an activity your child already loves and add yoga moves :) this part can last 5 mins or 20 mins depending if you prepared many activities and will also depend if your child has the energy and interest for this kind of play at that time. As you practice more your little one will probably want to do more as well and ask for it! Don't forget to add partner poses if you think your little one is into it.
****Remember that breathing and smiling in a pose is better than forcing faces and holding the breath (be safe and prevent injury!).
Try Young Yoga Masters' Frog Alphabet:
http://www.youngyogamasters.com/2014/05/28/yoga-alphabet-printable/ have them guess the pose and show it to you and then do it together. You can also get your Brown Bear, Brown Bear, What Do You See? (by Bill Martin and Eric Carle) book out and do animal poses as you read the book… you already have lots of things you can use at home!
Brown Bear, Brown Bear, What Do You See? by Bill Martin and Eric Carle

7)        To close the practice it might be again challenging as it's easy to just run out and play with other things at home. But a fun advantage of being home, you can combine relaxation and cuddles, something you wouldn't see in an outside class. Have your little one lie on top of you for savasana or resting pose or just cuddle together for 3 mins side to side. You can also come into child's pose under a blanket together and then they'll probably ask you to lie down. You can also play relaxing or story telling music, have them roll up in a mat (they're always eager to try that one!) and when they're ready and willing have them try a more traditional sitting or lying down relaxing exercise.
Your entire class will probably take 15 to 45 mins and will vary each time. Remember that this is a time for you to connect and have fun first and foremost so if your child is tired or wants to move on to something else you don't need to force a longer activity or practice time - just go with to flow (as you probably already do with the rest of your day caring for your little one!)
                                      ---------------------------------
In this home after diner class, my 3 1/2 year old did not want to use the yoga mat!  It meant being distracted from playing on the kitchen table with play-doh. So to get him interested I drew magic carpets with chalk on the patio stones (since he's into Aladdin at the moment) and started class with the airplane song. We didn't get to finish our book but he was eager to show mommy how to do each animal as soon as he understood we were moving not just reading. His favorite posture was the relaxing pose... mine too :)
---------------------------------
Add ideas or comment on the ones you see in this blog article… and please share your experience doing yoga with your little one at home! We can all learn from each other and discover new things to try!
Thank you for reading :)